Ask The Expert
Courtney H.
Expert boot fitter Courtney shares exclusive insights on some of her top boot fitting tips, guidelines, and misconceptions when looking for snowboard boots.
TIME SPENT ON THE MOUNTAIN
7 YEARS
WHAT ARE THE TOP REASONS WHY SOMEONE SHOULD PURCHASE THEIR OWN BOOTS?
Rental boots have been packed out already and won't be able to naturally conform to your anatomy.
Rental boots tend to be super soft flexing and forgiving for people that are learning. When you know your riding style we can base your boot purchase on factors like stiffness, laces vs boa, zonal vs internal tightening, and more.
When you purchase your own boots, they can be heat molded and customized for you.
Hygiene: your own boots smell like you.
Convenience: not having to come to the store every time you ride.
WHAT ARE A FEW COMMON MISCONCEPTIONS ABOUT SKI OR SNOWBOARD BOOTS? WHAT IS THE TRUTH BEHIND THESE?
A lot of people think that you would want the same fit as your normal street shoe for your boot. This is completely incorrect. When trying a new boot on, this is the smallest your boot will ever fit you. You will gain some space inside of the boot due to pack out after riding in it for 10-15 days. There are things we can do to gain some extra space in the boot but we can never make it smaller again. You want the liner of your boot to basically give your foot a firm handshake to where there is not extra space in your boot. If you have extra space when trying the boot on, after the pack out, the boot could end up being too large. The fit of your boot is very important. With a boot too large it will affect the responsiveness of your whole set up. With a boot too small you can experience pain and discomfort.
AT WHAT POINT IN SOMONE'S SKI/SNOWBOARD JOURNEY WOULD YOU RECCOMEND PURCHASING YOUR OWN BOOTS?
After your first season of riding or once you get past the falling leaf stage. Your boots will affect the responsiveness of your set up. If you're in a super soft flexing boot you will not get your board to react as quickly as you can with a stiffer flexing boot. Once you start hitting heel side/to side turns and J turns, the responsiveness of your boot can affect the way that you ride.
WHAT CAN SOMEONE EXPECT IN A CHRISTY SPORTS BOOT FITTING SESSION?
Expert advice. You will come in and talk to a boot fitter about your level of riding, what kind of riding you like to do, and your goals for riding in the future. You can expect your boot fitter to measure your foot and recommend the perfect size, flex, and tech specs based on your needs. From there your boot fitter will walk you through the process of trying boots on to find the perfect boot for you!
Christy Sports also has a boot fit guarantee! I am always happy to help my customer with any additional needs after purchasing a boot from Christy Sports. Sometimes that can be the deciding factor for customers in a boot purchase.
WHAT BOOTS DO YOU HAVE AND WHY DO YOU LOVE THEM?
I am currently riding in the Ride Hera boot. It is comfortable, responsive, and fits my foot perfectly. The mid stiff flex offers great responsiveness without being too aggressive.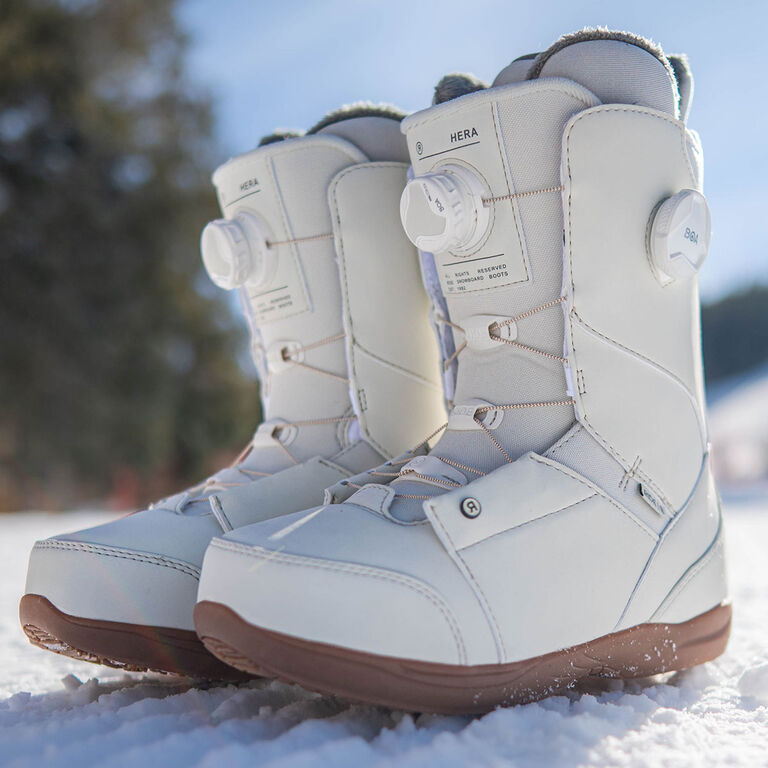 WHAT BOOTS DO YOU HAVE AND WHY DO YOU LOVE THEM?
I am currently riding in the Ride Hera boot. It is comfortable, responsive, and fits my foot perfectly. The mid stiff flex offers great responsiveness without being too aggressive.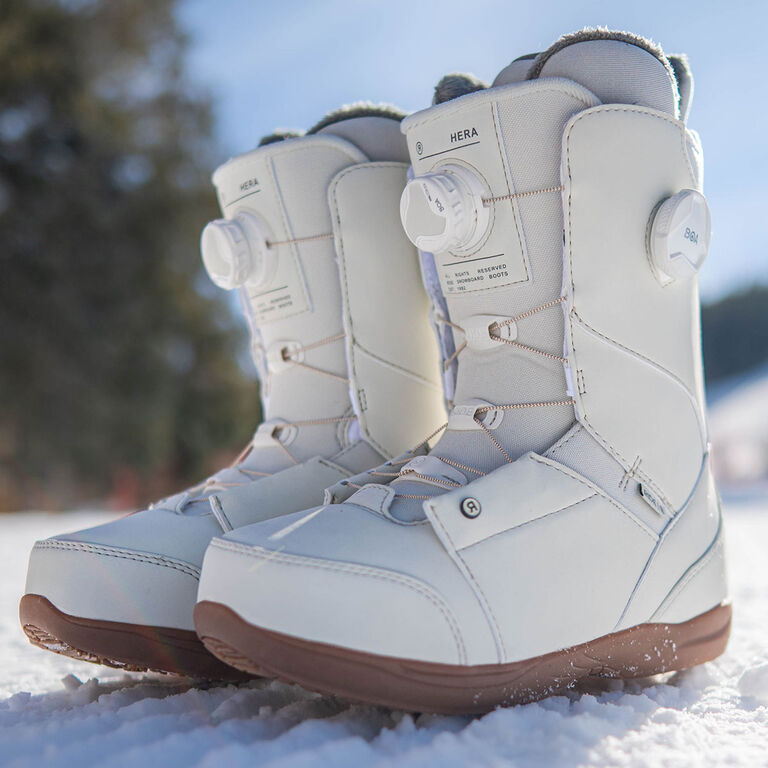 WHAT ARE THE 3 MOST COMMON QUESTIONS YOU GET DURING BOOT FITTING SESSIONS?
1. I WEAR A SIZE X SHOE, WHAT SIZE BOOT SHOULD I WEAR?
Your shoe size may not reflect your snowboard boot size. The easiest way to determine your sizing is to get measured by a boot fitter. All brands and liners fit differently, and everyone's anatomy is different. Trying on snowboard boots before hitting the mountain is imperative.
2. WHY ARE BOOTS SO EXPENSIVE?
Snowboard boots offer a level of protection, durability, performance, and comfort/warmth in comparison to your everyday snow boot. The price of the snowboard boot is determined by what you are looking for in your boot, you don't need to buy the most expensive boot in the store to get everything you're looking for in a boot. Boots are the most important part of your set up. If you don't have comfortable riding boots, it can affect your day. Most boots offer a heat moldable liner that allows extra customization to ensure your comfort.
3. WHAT IS HEAT MOLDING?
Heat molding is where we heat up the liner of your boot to give you extra customization. It can also help if you're having any hot spots, pressure points, or discomfort. The beauty of the Intuition heat-moldable liners is that they continue to mold to your feet with your body heat as you ride.
HOW CAN YOU TELL IF A BOOT IS A GOOD FIT?
You want your toes to just barely graze the front of your boot, no extra space to allow movement, and no heel lift. When you drop into your snowboarding stance it should relieve the slight pressure that you're feeling in the toes.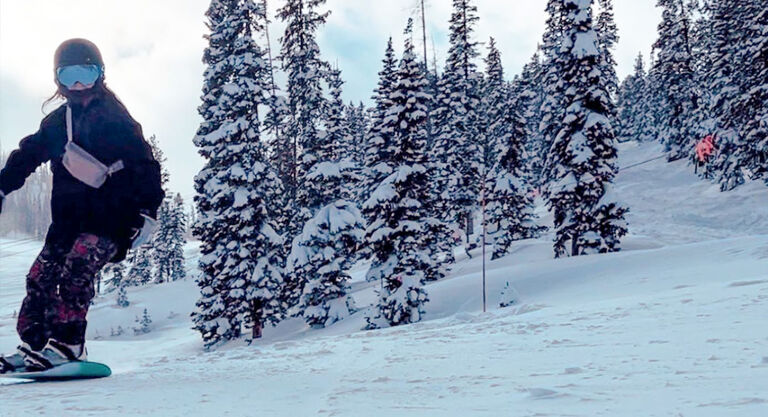 WHEN DO YOU RECOMEND A CUSTOMER GETS CUSTOM INSOLES?
In the snowboard department we don't do custom insoles very often. In the ski hardwoods department at our store, they sell insoles with almost every pair of boots. If my customer has very high or low arches, I will recommend a trim to fit insole to provide more support and comfort.
CAN YOU GIVE US 3 BOOT RECOMMENDATIONS FOR THE FIRST TIME BUYER?
1. Salomon Faction
2. K2 Haven
3. Ride Sage
These boots are budget friendly and perfect for a new rider or moving from rental to retail. They will be soft flexing and offer forgiveness as you are learning. If someone isn't concerned with budget they could upgrade to a slightly stiffer, more responsive boot, such as the Ride Hera or K2 Boundary.

IF YOUR FRIENDS HAD TO GUESS WHERE TO FIND YOU ON THE MOUNTAIN, WHERE WOULD THEY LOOK?
If my friends were looking for me on the mountain they should look for powder!

DO YOU HAVE AN UNPOPULAR OPINION ABOUT SKIING?
My Unpopular opinion on skiing is that skiers and snowboarders are all equal. We are all out here to have a good time and enjoy being on the mountain! 

IF YOU HAD TO EQUATE YOUR SKIING STYLE TO AN ANIMAL, WHAT WOULD IT BE?
If I had to equate my riding style to an animal, I would be a sugar glider. I can be timid and cautious at times, but I also like to feel the wind in my hair as I glide down the mountain.