Fire Pits
Fire is a focal point that puts people at ease. It holds your attention, warms your soul, drops your blood pressure. Think of what a fire invokes... s'mores, storytelling, camping, cuddling... it's a multi-sensory experience and now an absolute must for any outdoor gathering space. Christy Sports has fire pits in a variety of shapes and sizes to complement any outdoor patio area.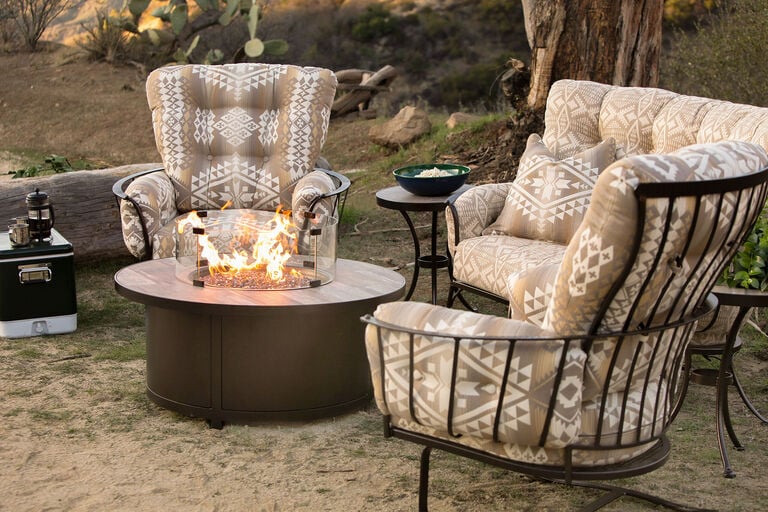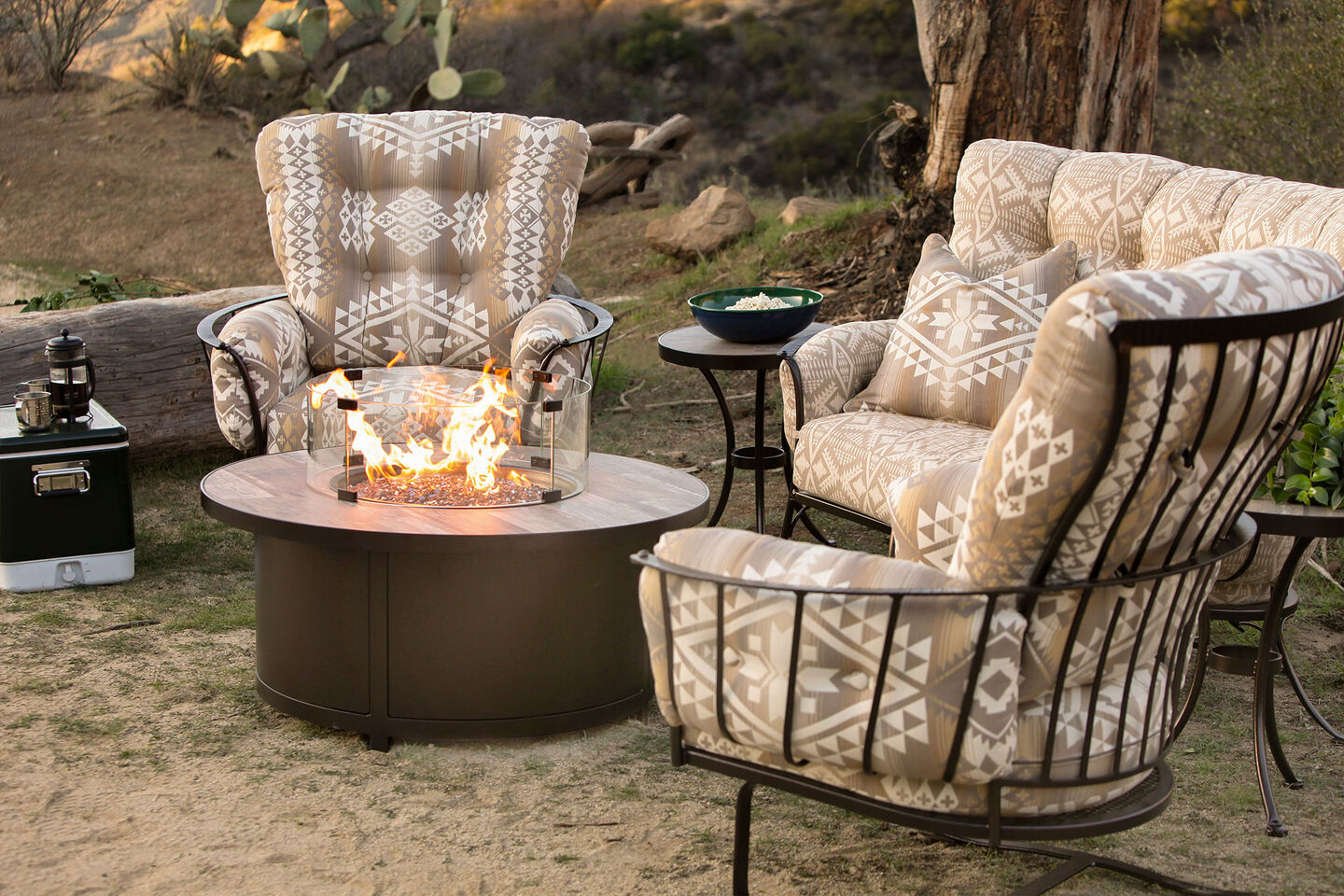 O.W. Lee 42" Round Capri Fire Pit
O.W. Lee products are renowned for their quality of construction and attention to detail. With durable wrought iron construction and reliable ignition systems, this Capri fire pit comes with Venice Beach tile, fire pit media and a lid. (glass shield sold separately)
# 9100681
Measurements: 42" Round - 24" Chat Height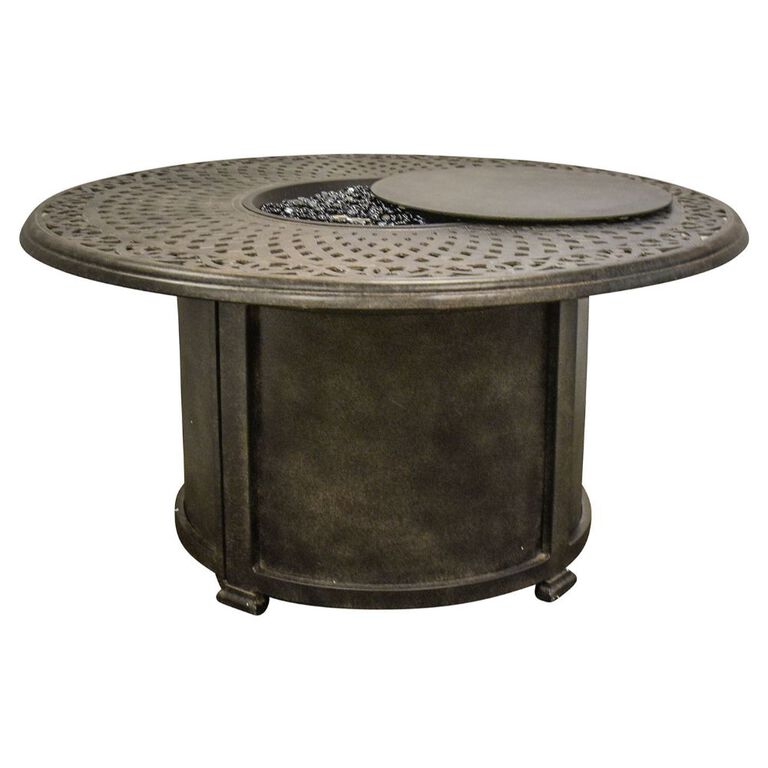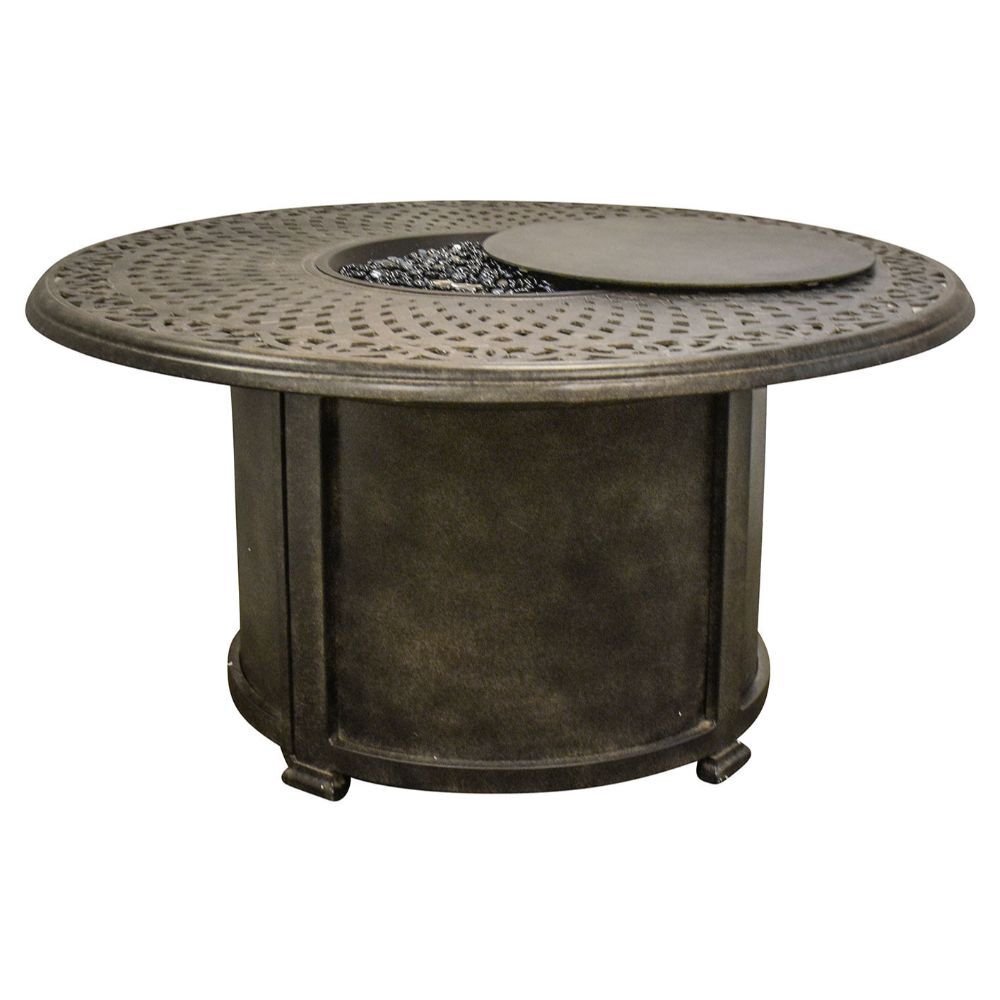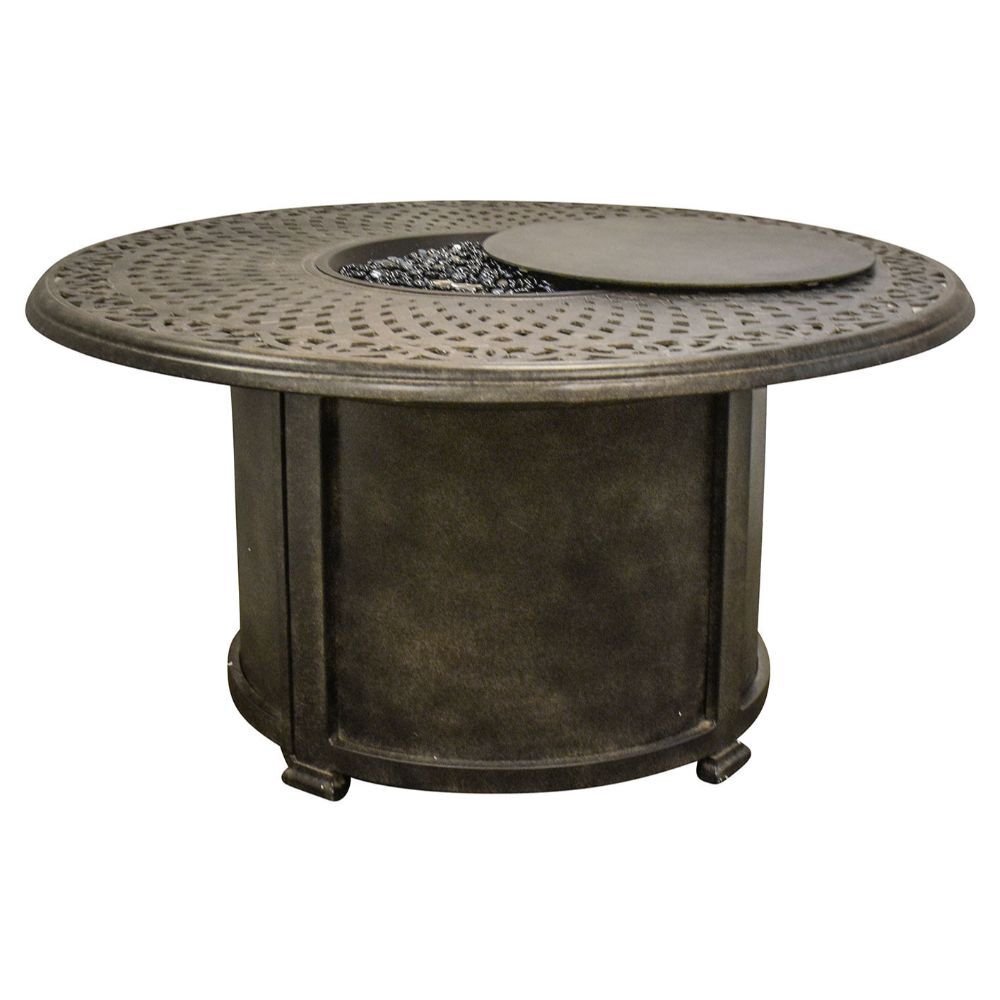 Agio Charleston Round Fire Pit w/glass
# 9100359
48" W 24" H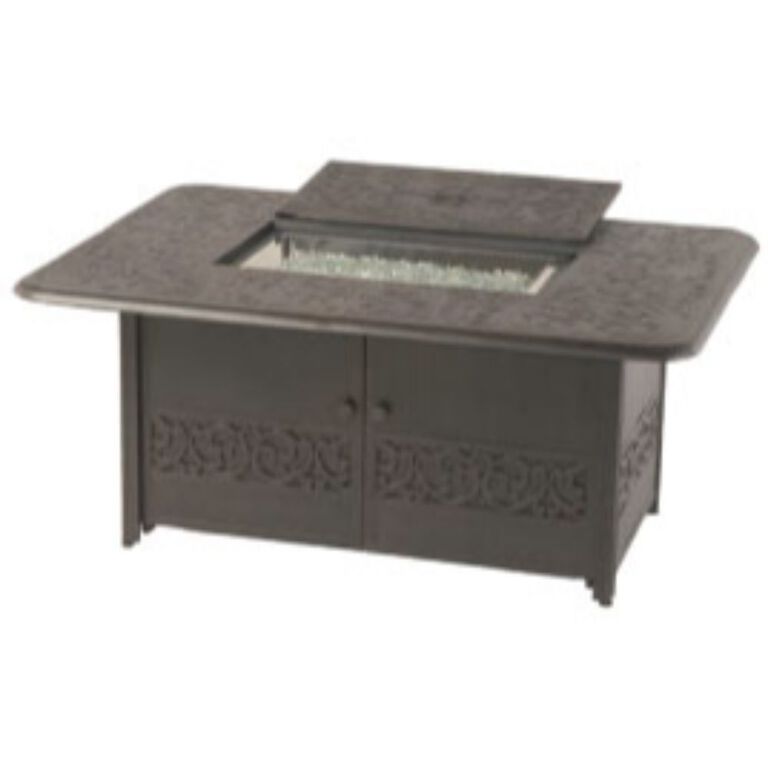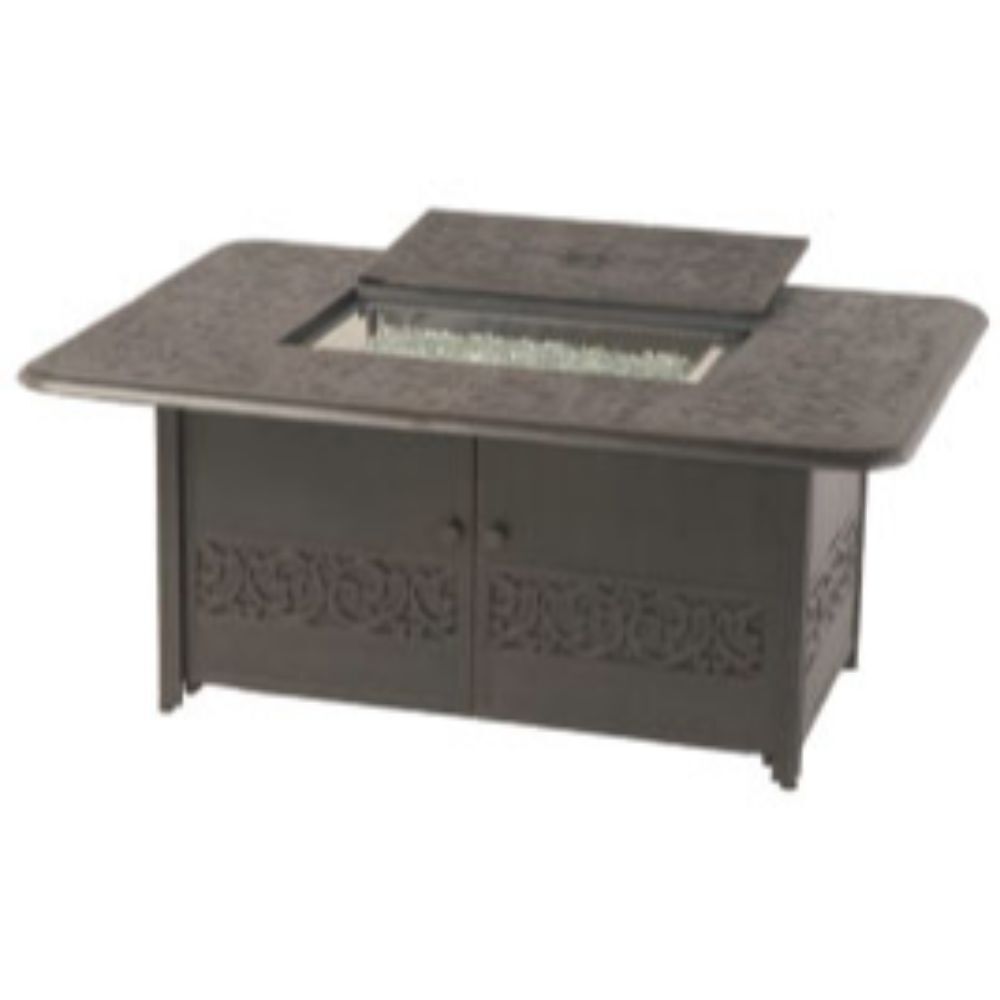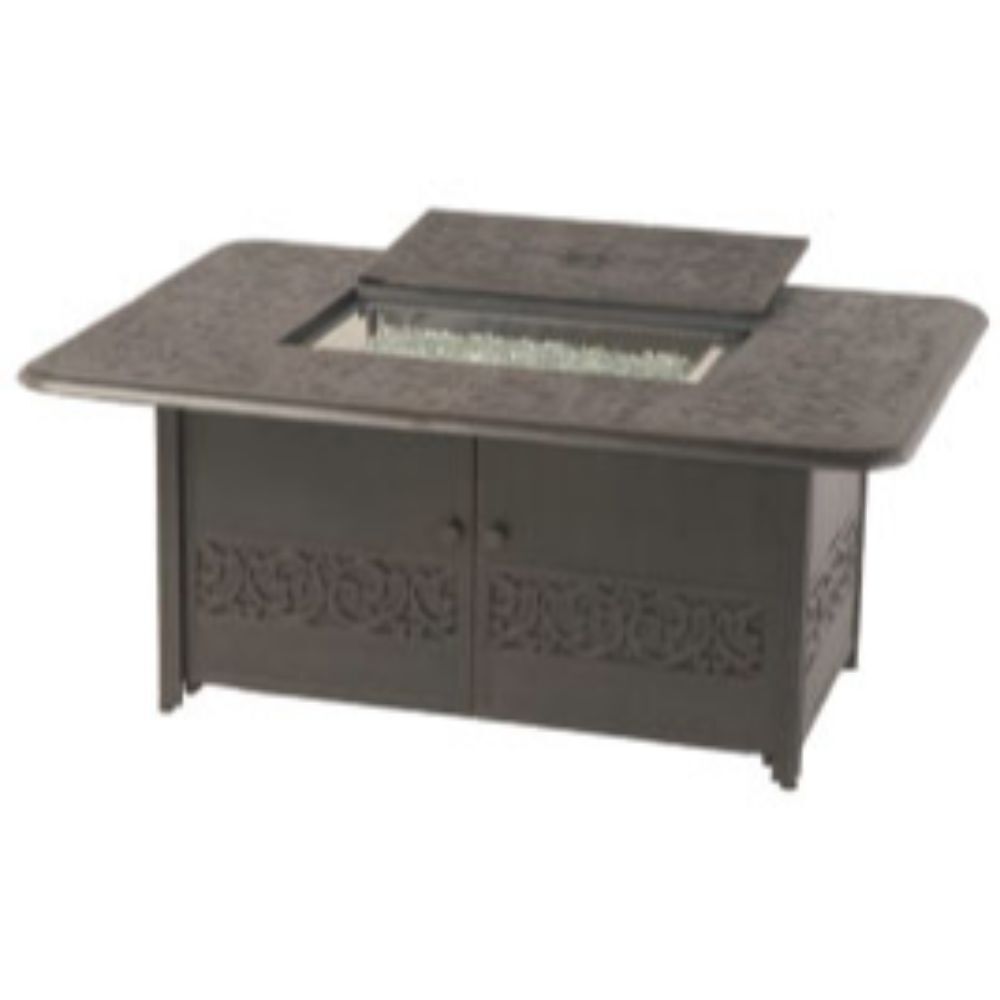 Hanamint Rectangular Chateau fire Pit
# 9100685
48" W 24" H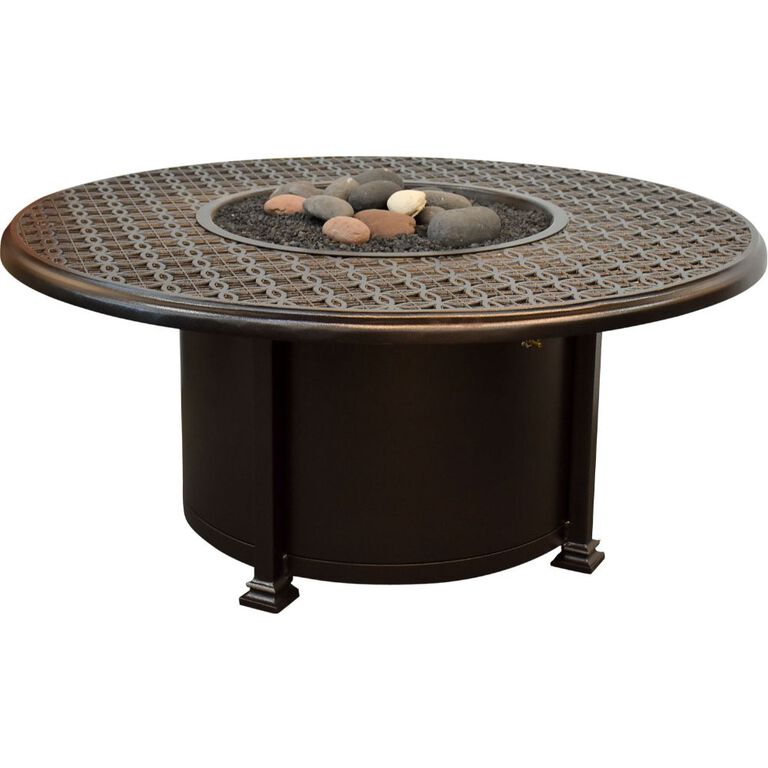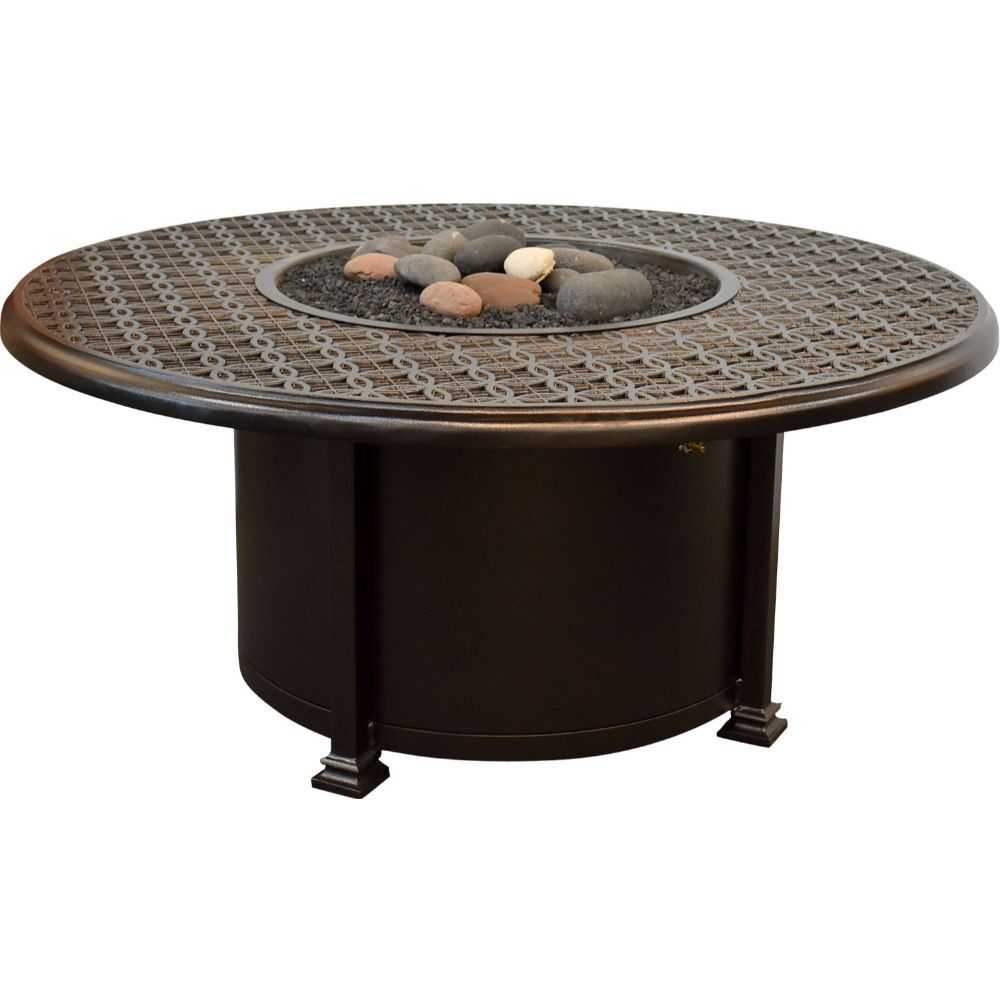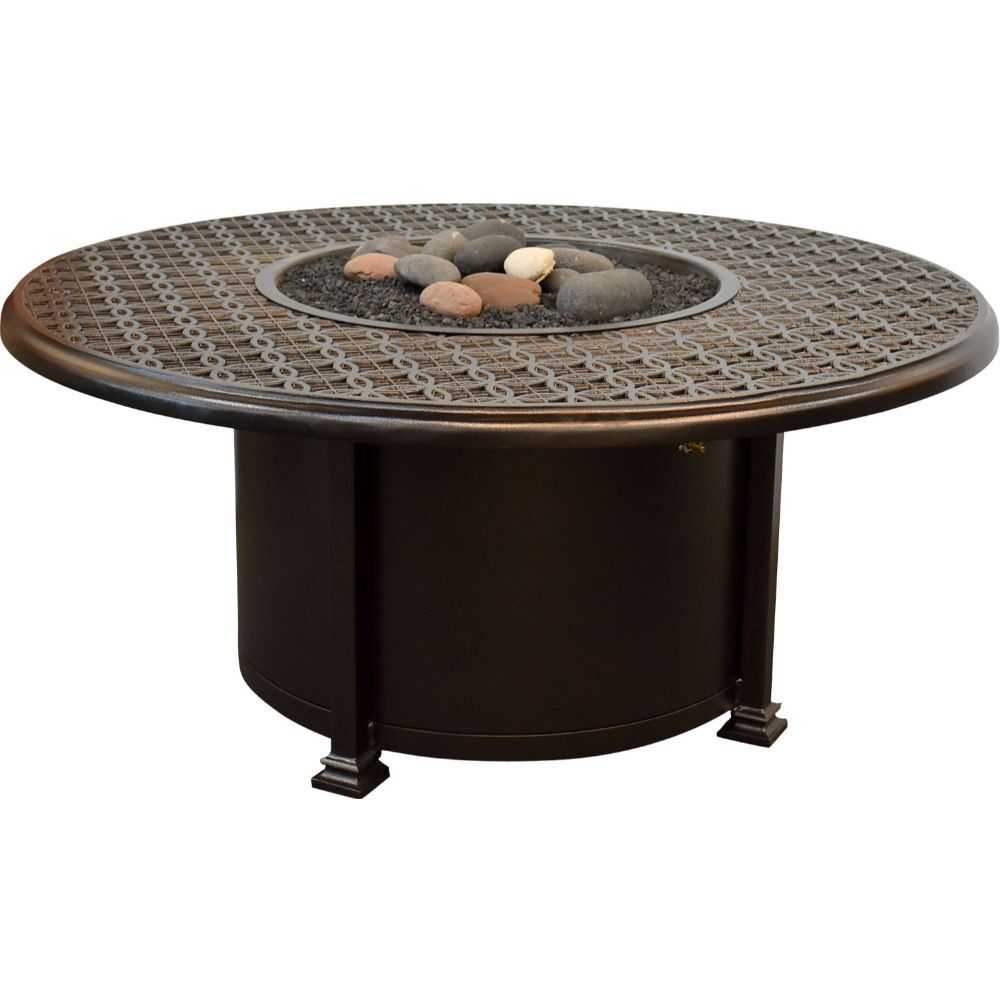 O.W. Lee Richmond Round Chat Fire Pit
# 9100708
54" W 20"D 29"H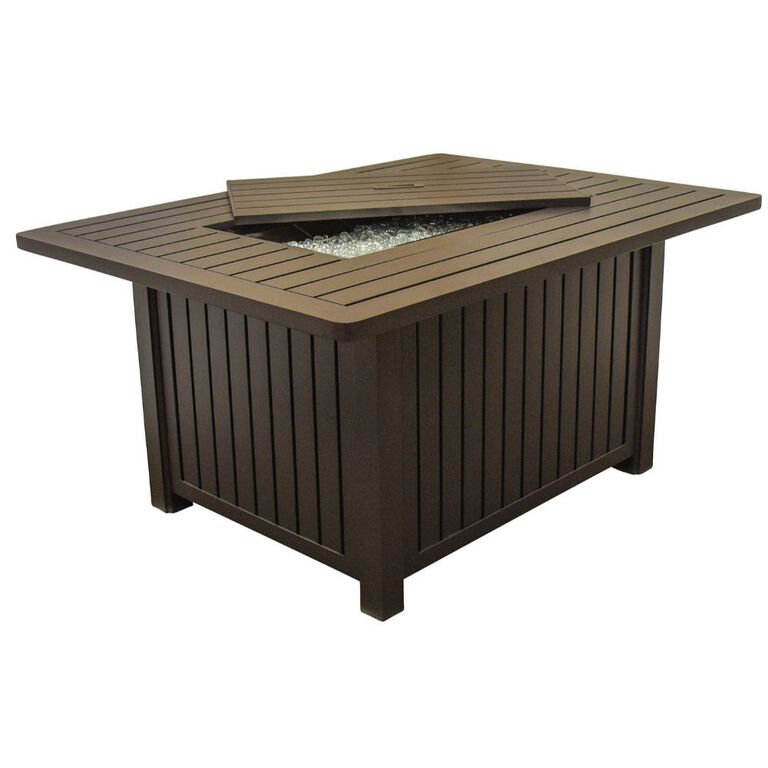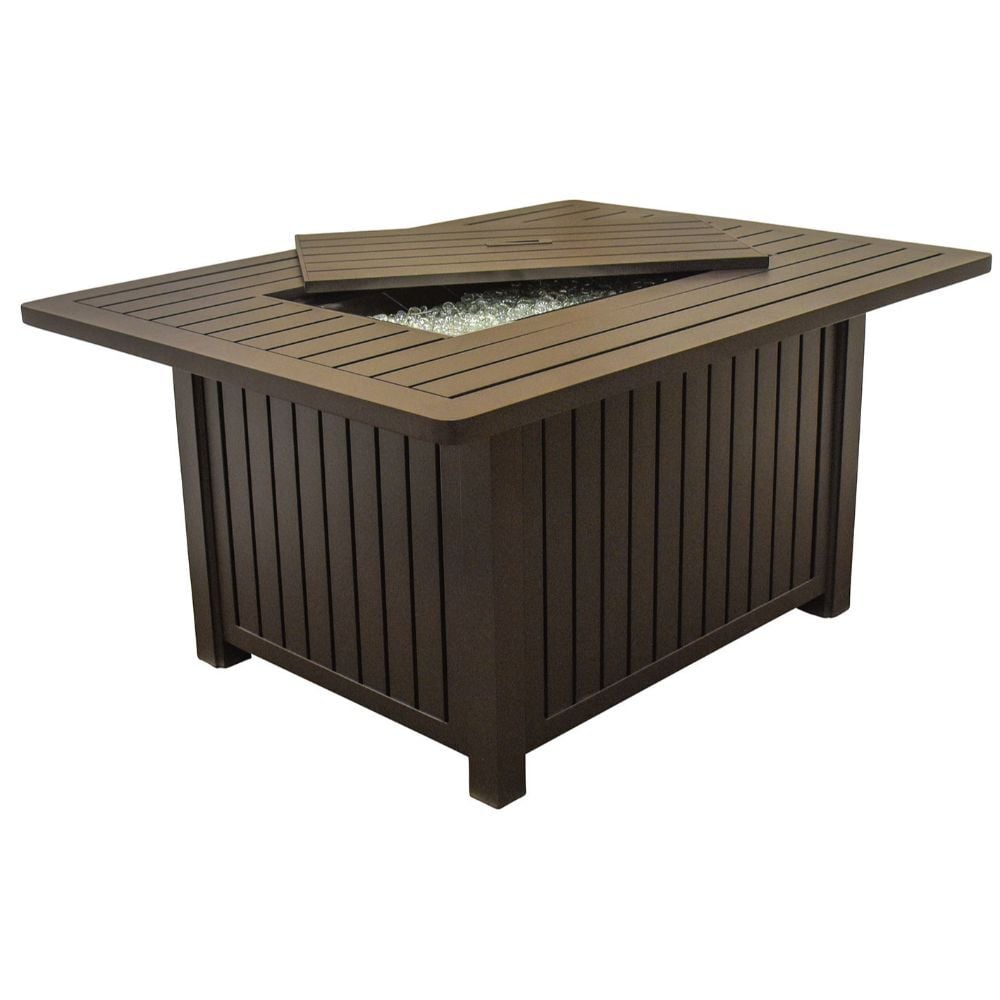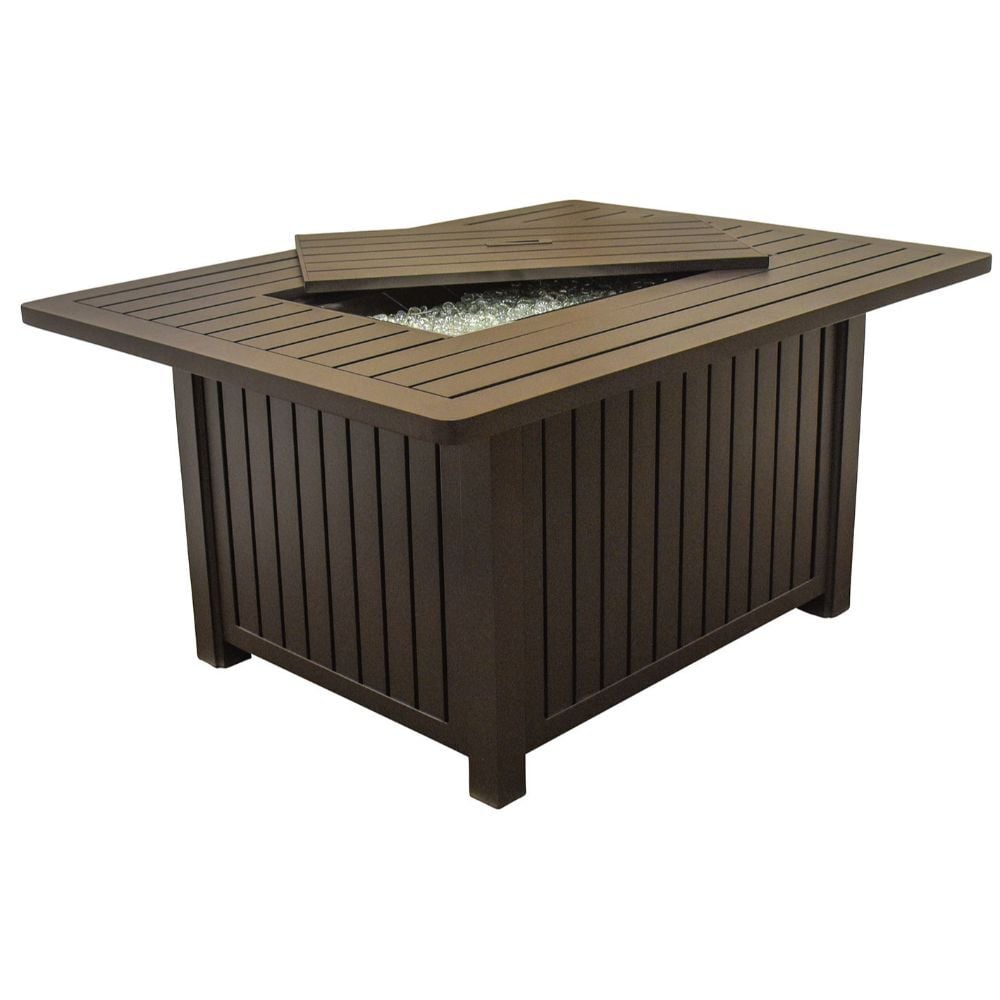 Alu-Mont Carlisle Slat Fire Pit w/glass
# 9100450
49" W 37"H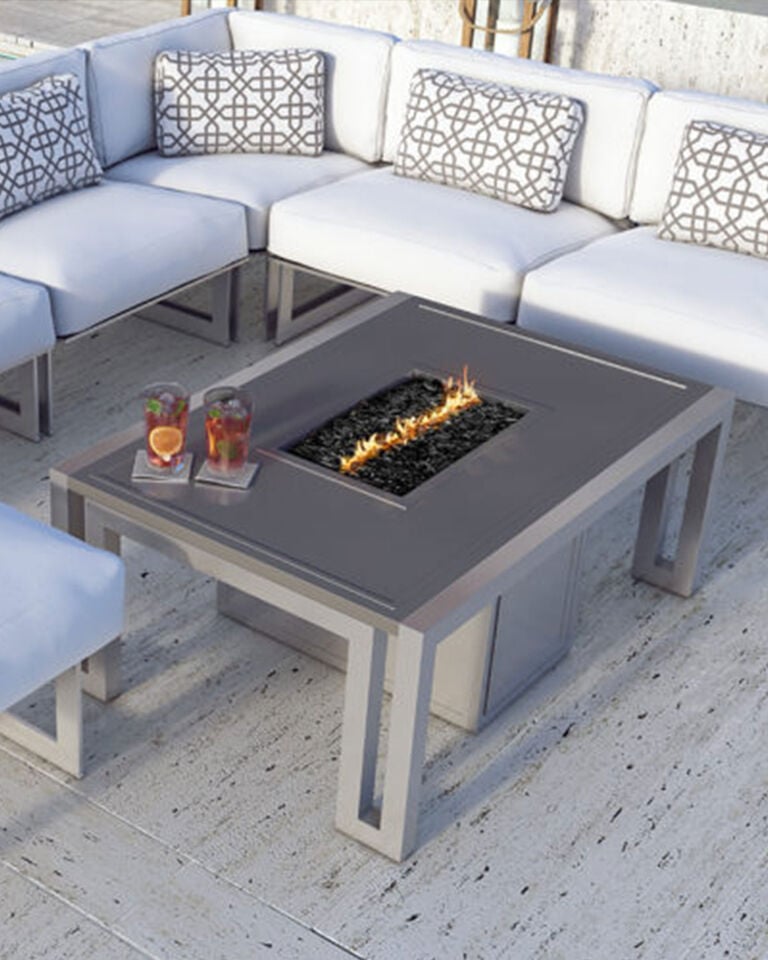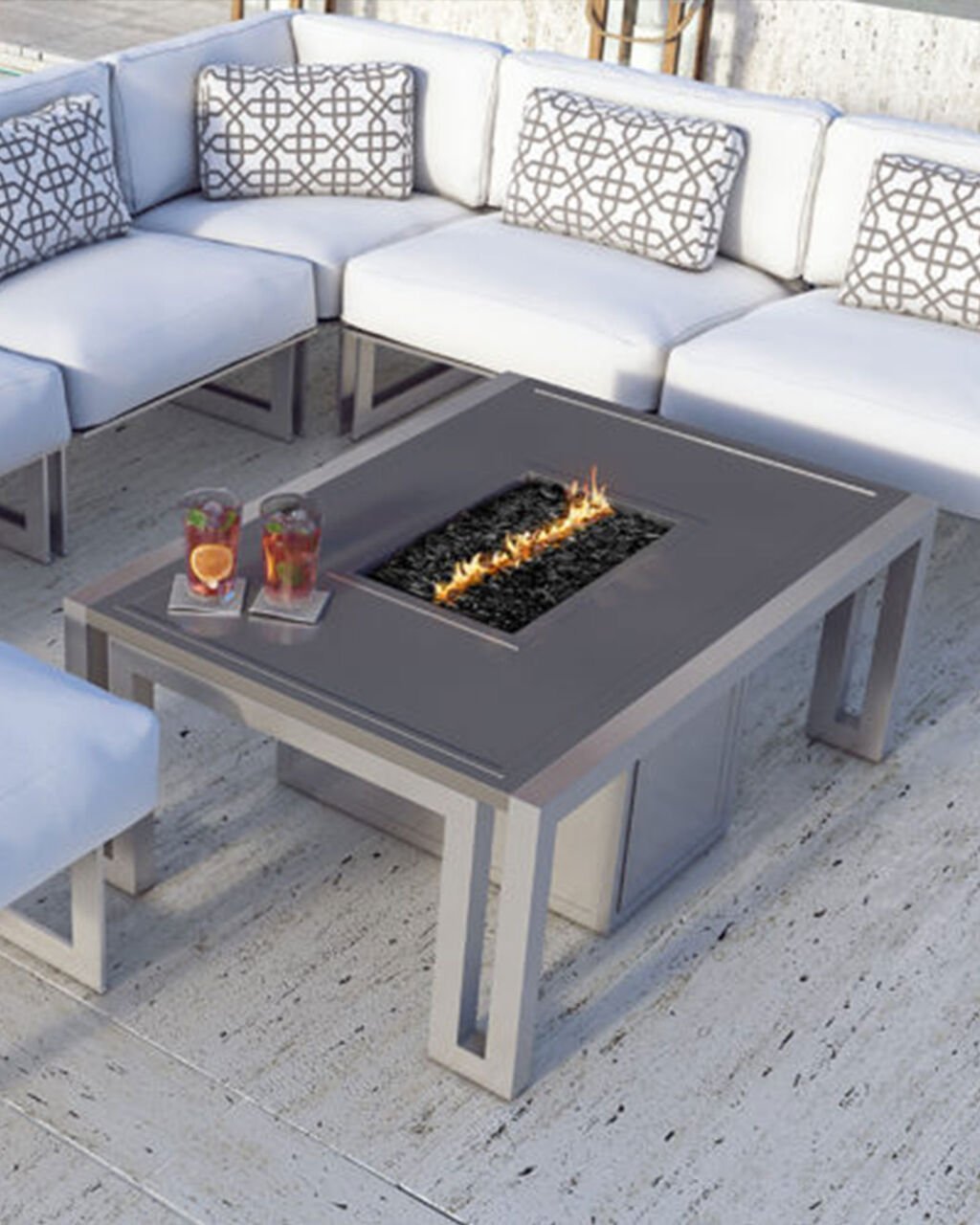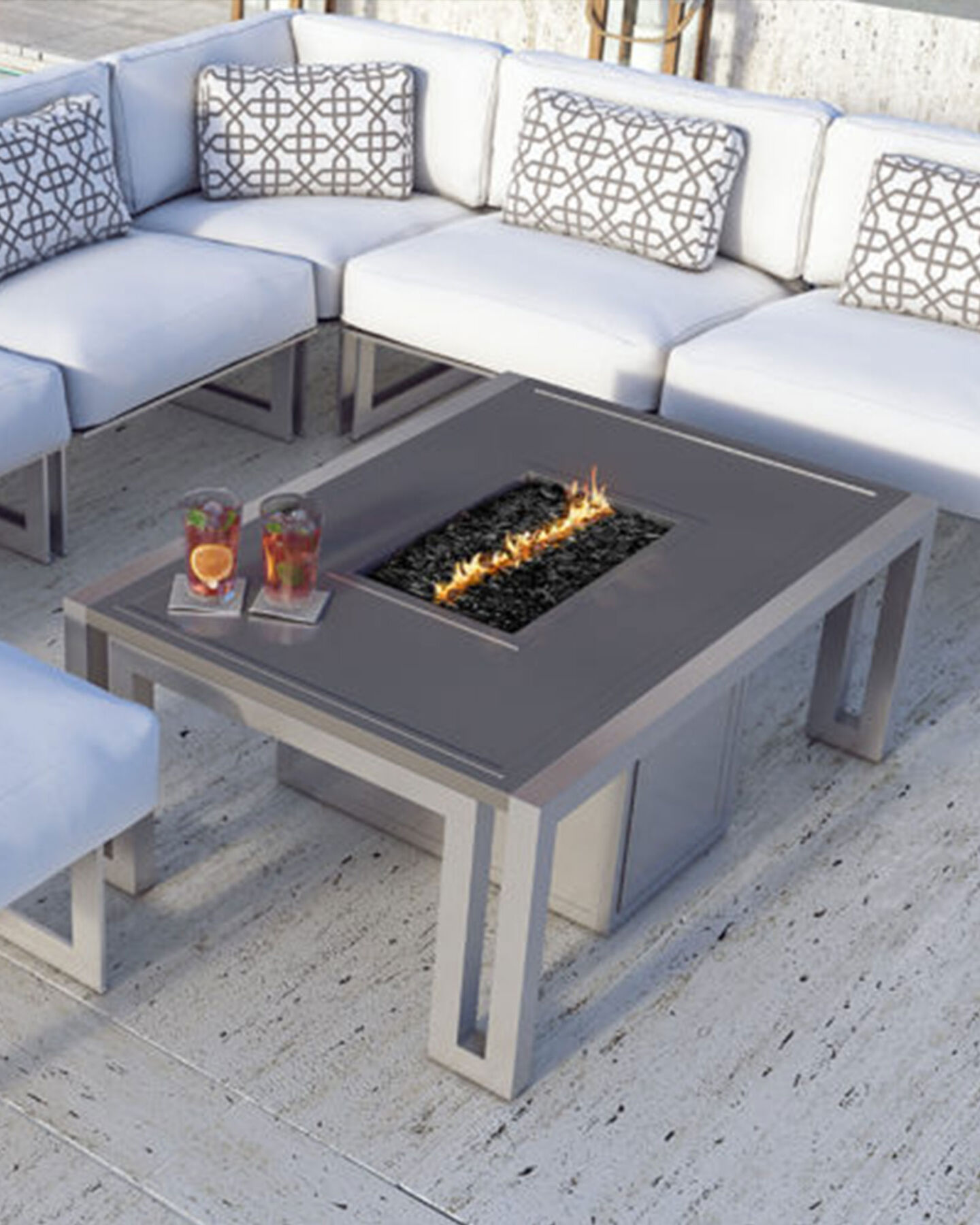 Icon Castelle Rectangular Fire Pit
Each Castelle product is handcrafted one piece at a time by the most highly skilled craftsmen in the industry. Combining high-quality extrusions with cast components that are designed and manufactured in their own foundry, resulting in our overall product excellence. The ability to transform aluminum into original looks and styles is what truly makes Castelle one of a kind.
Available for Custom Order
Measurements 35.5" W 50" D 20.5" H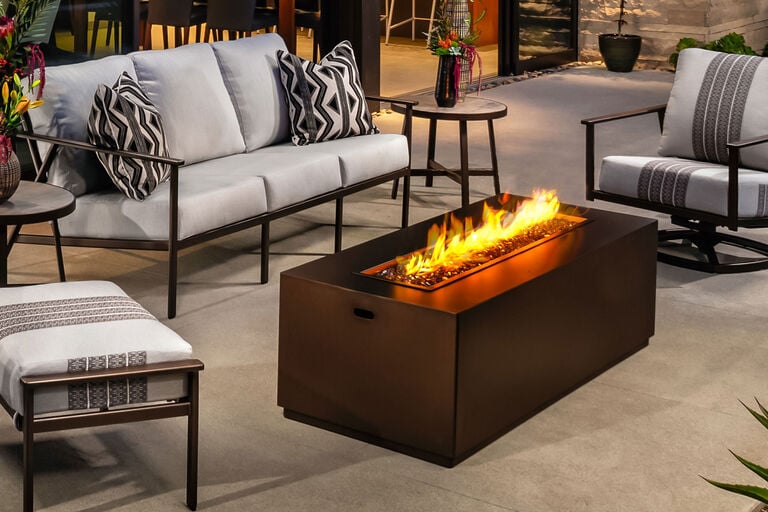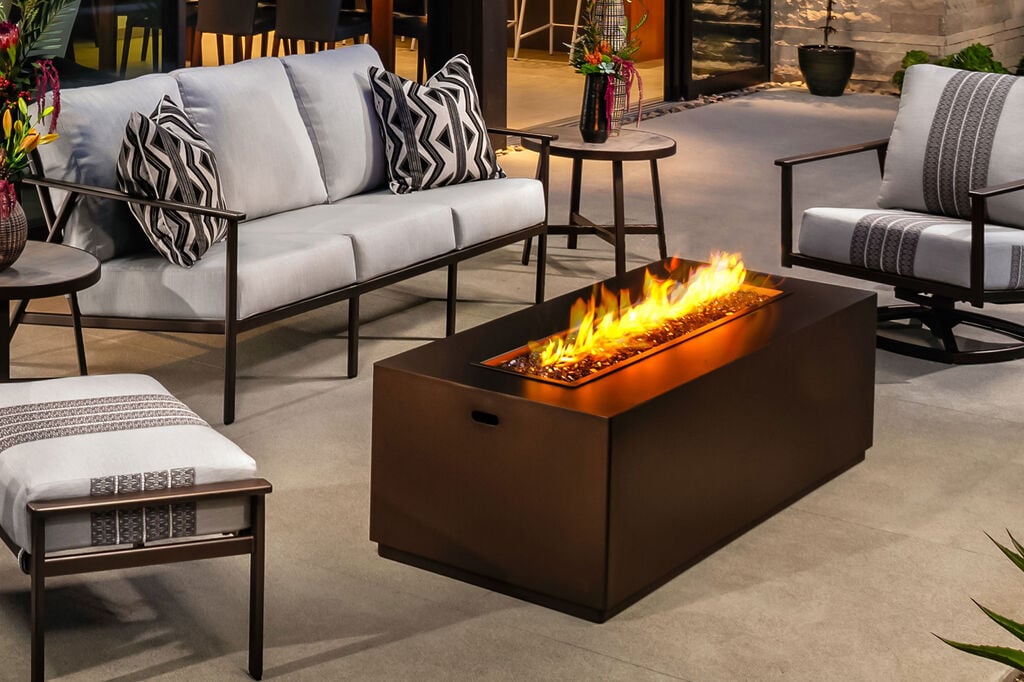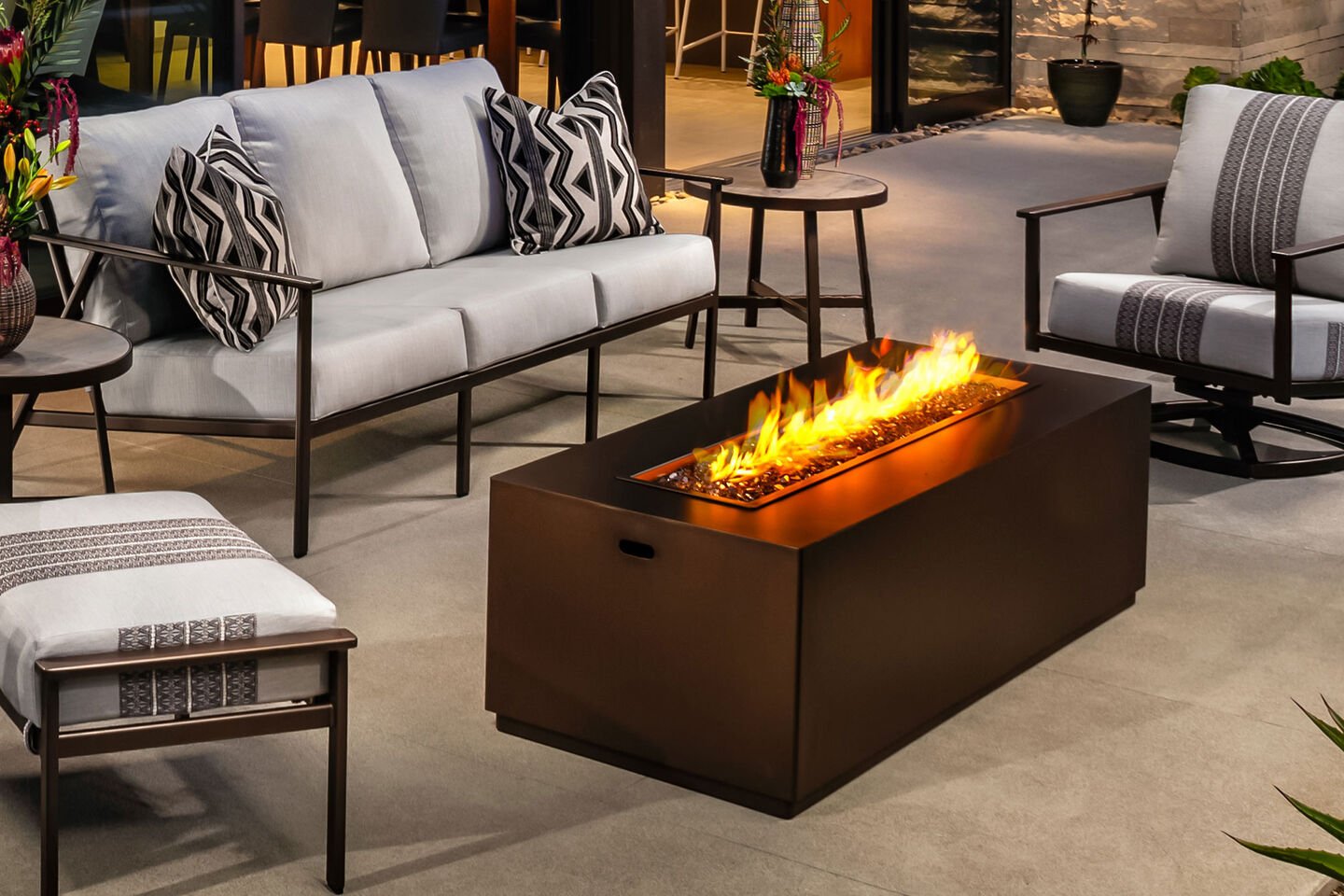 O.W. Lee Forma Occasional Height Fire Pit
OW Lee is setting the standard for outdoor entertainment with the most sophisticated collection of outdoor fire pits and accessories available. Featuring Aluminum construction and sleek design, the Forma fire pit by OW Lee transforms your yard into the perfect gathering place.
# 9100781
Measurements 65" W 25" D 18" H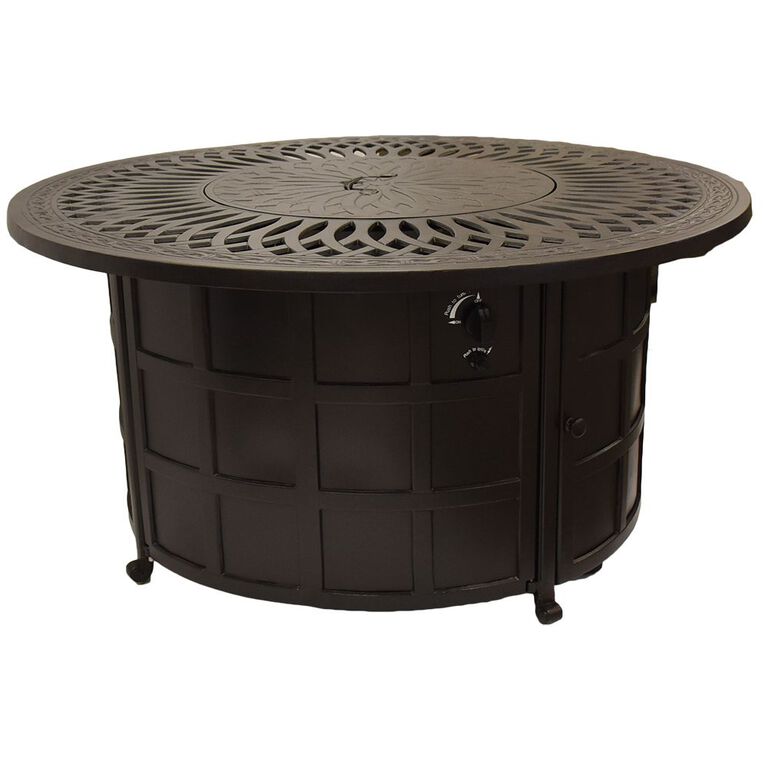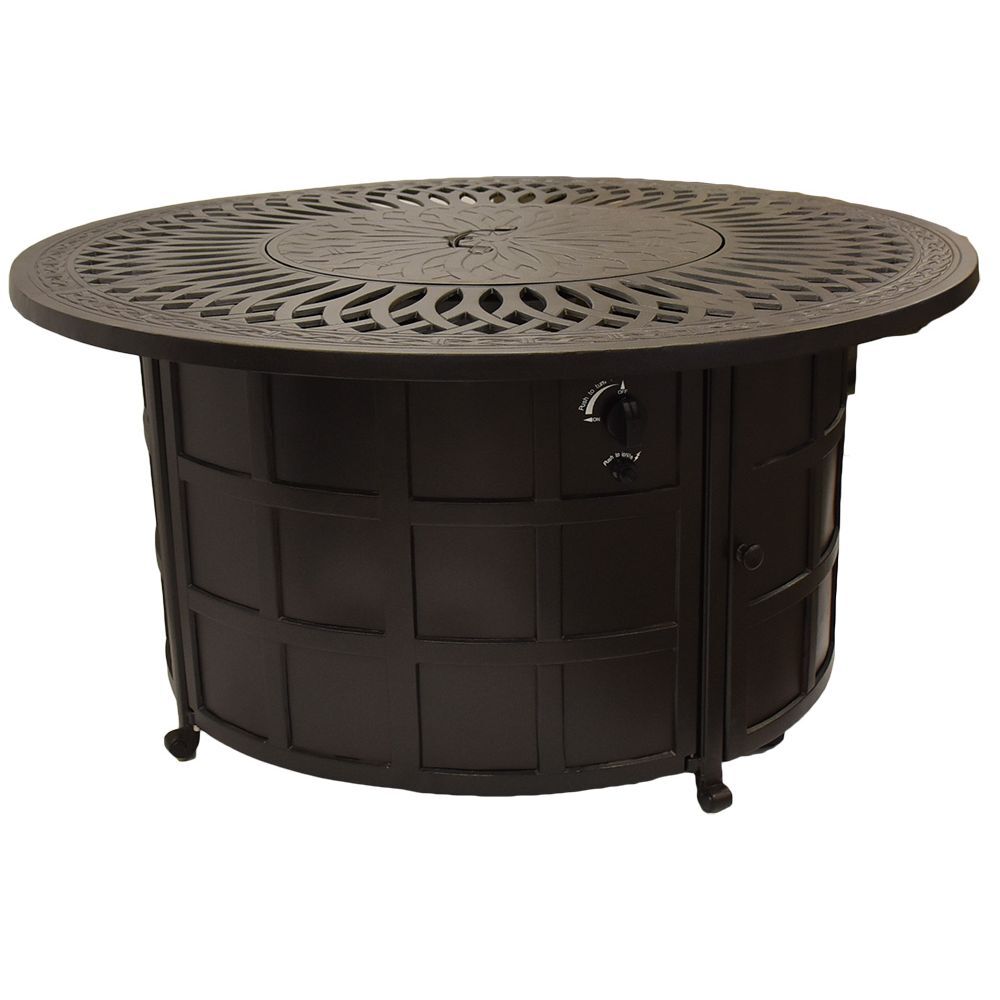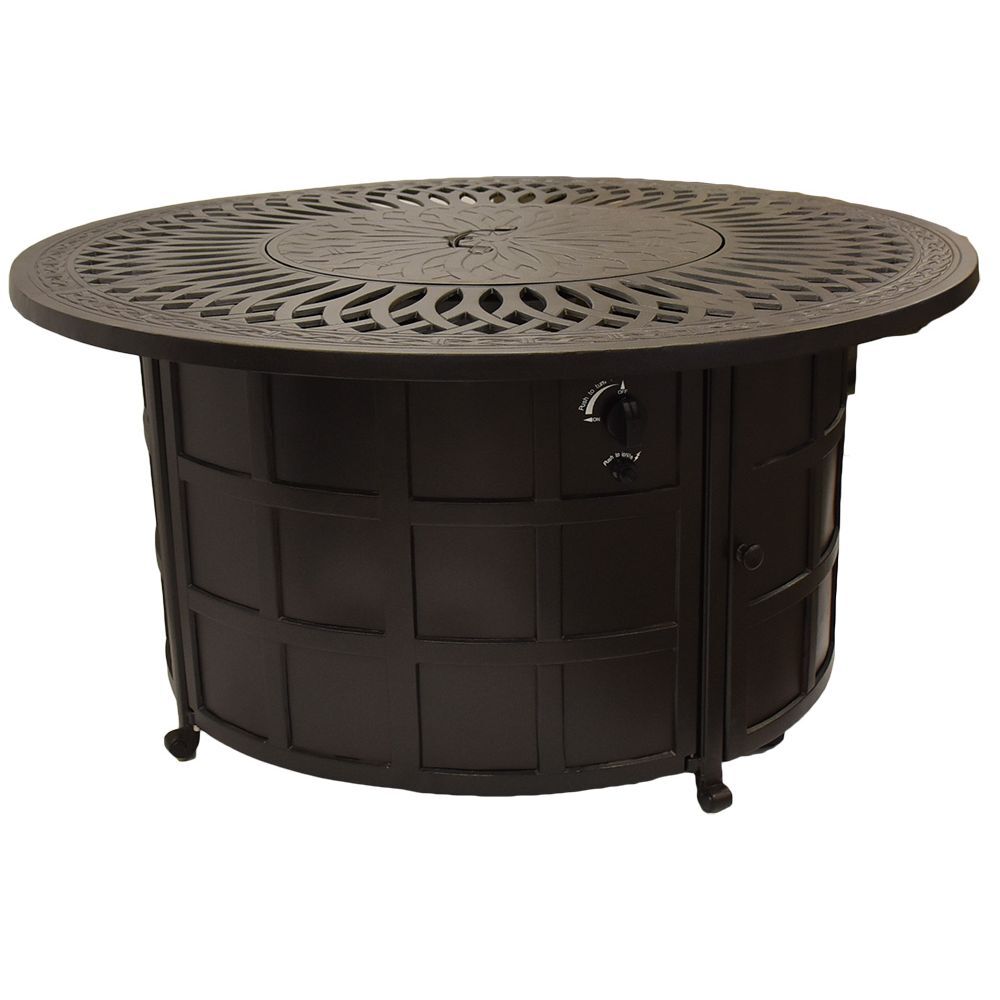 Hanamint Mayfair Round Gas Fire Pit
# 9100467
48" W 24.3" H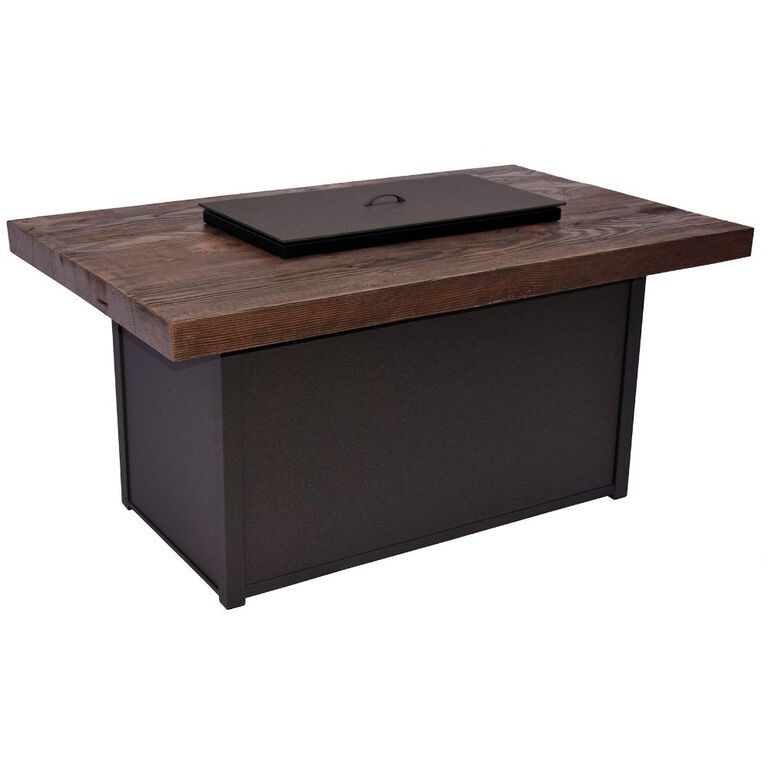 Homecrest Aurora Chat Fire Pit w/ Cover & Glass
# 9100358
32" W 52" D 24.5" H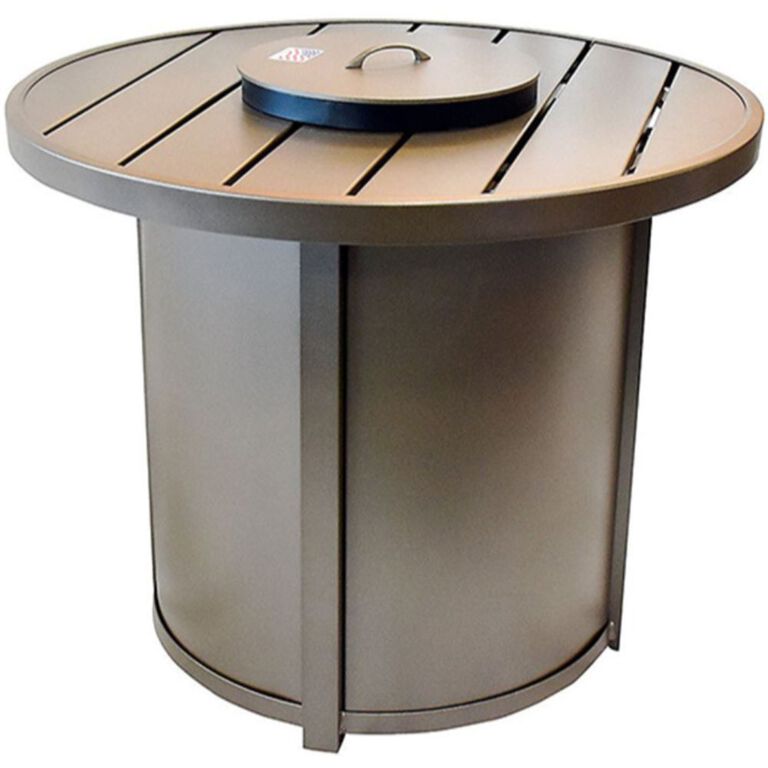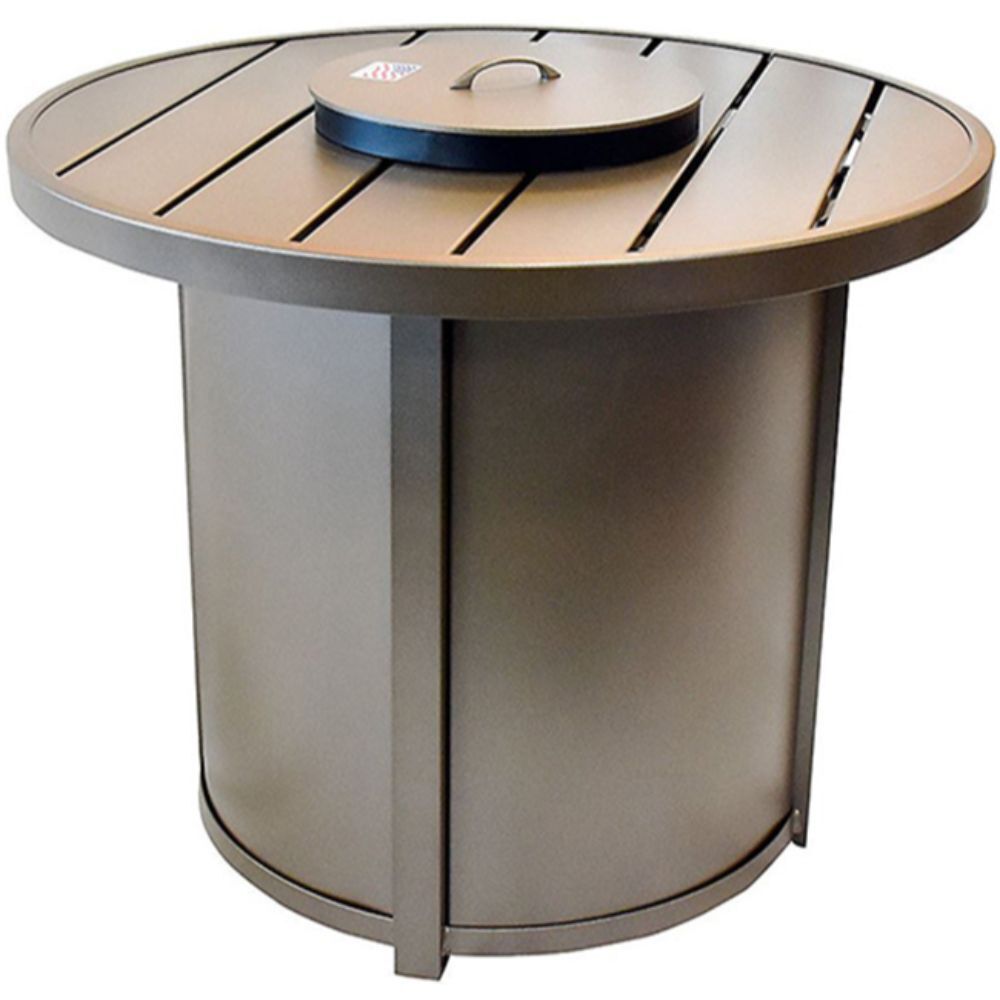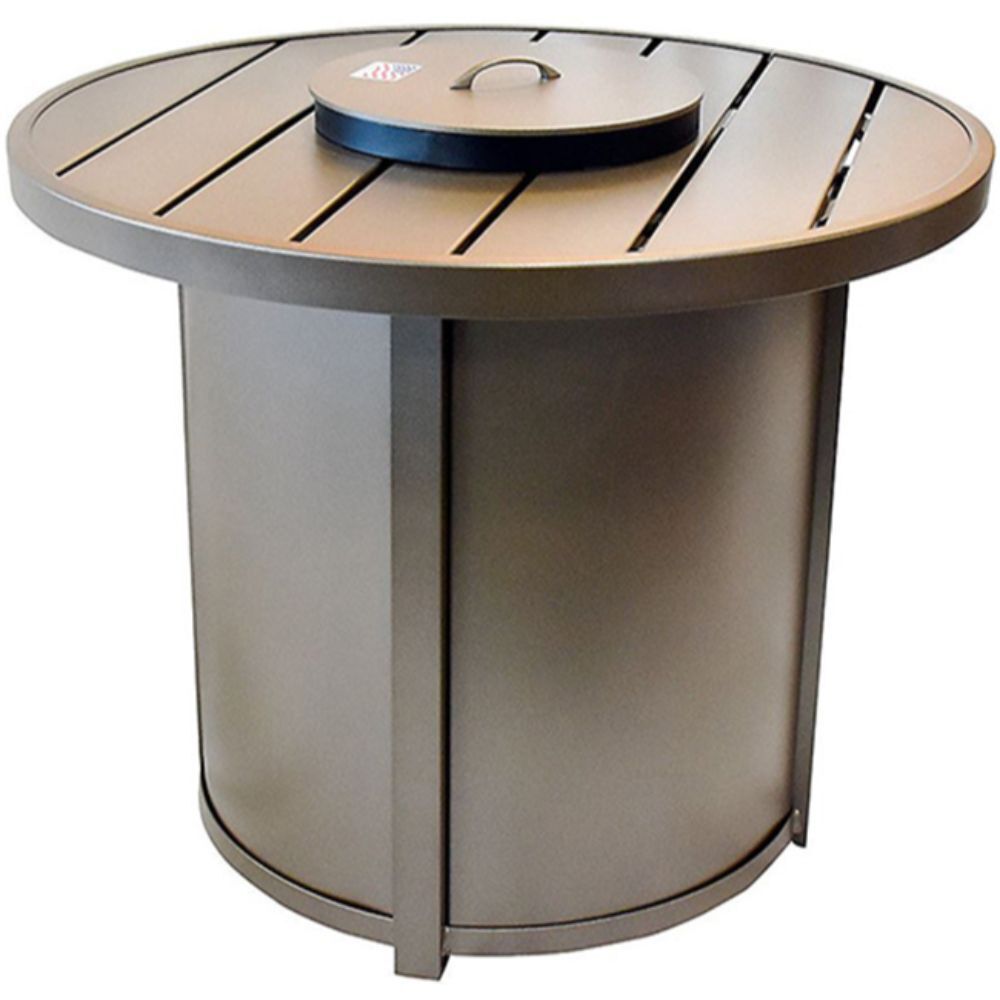 Homecrest Breeze Round Chat Fire Table
# 9100623
30" W 24.5" H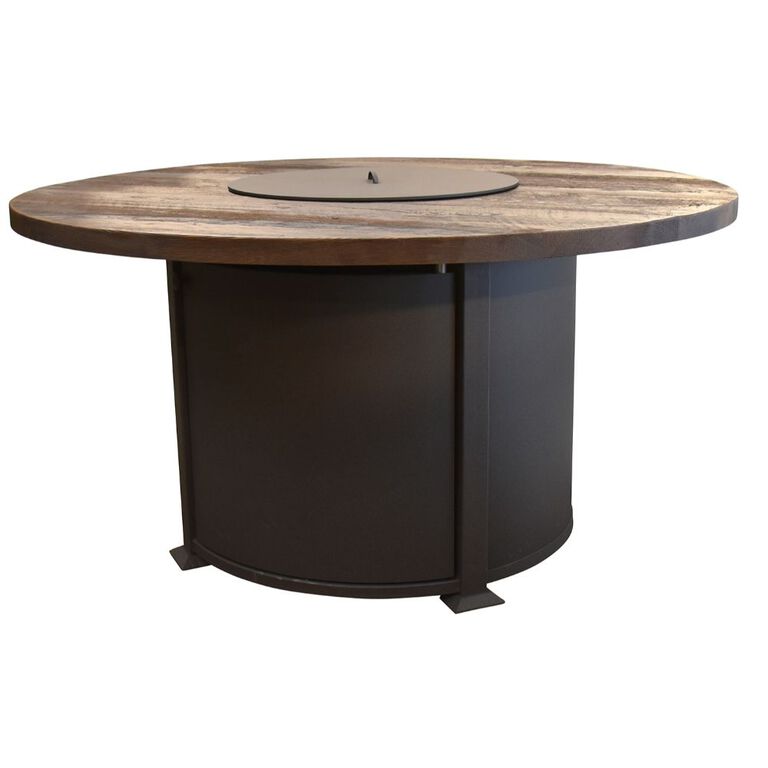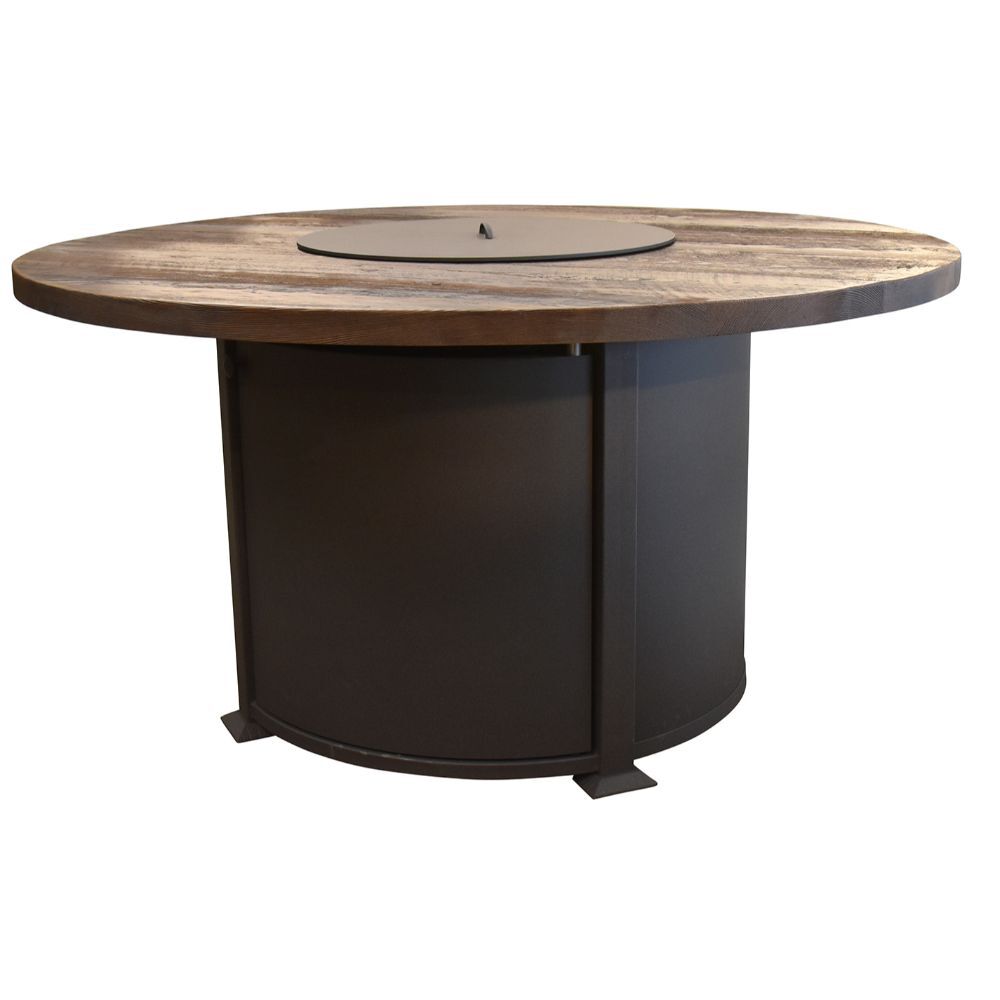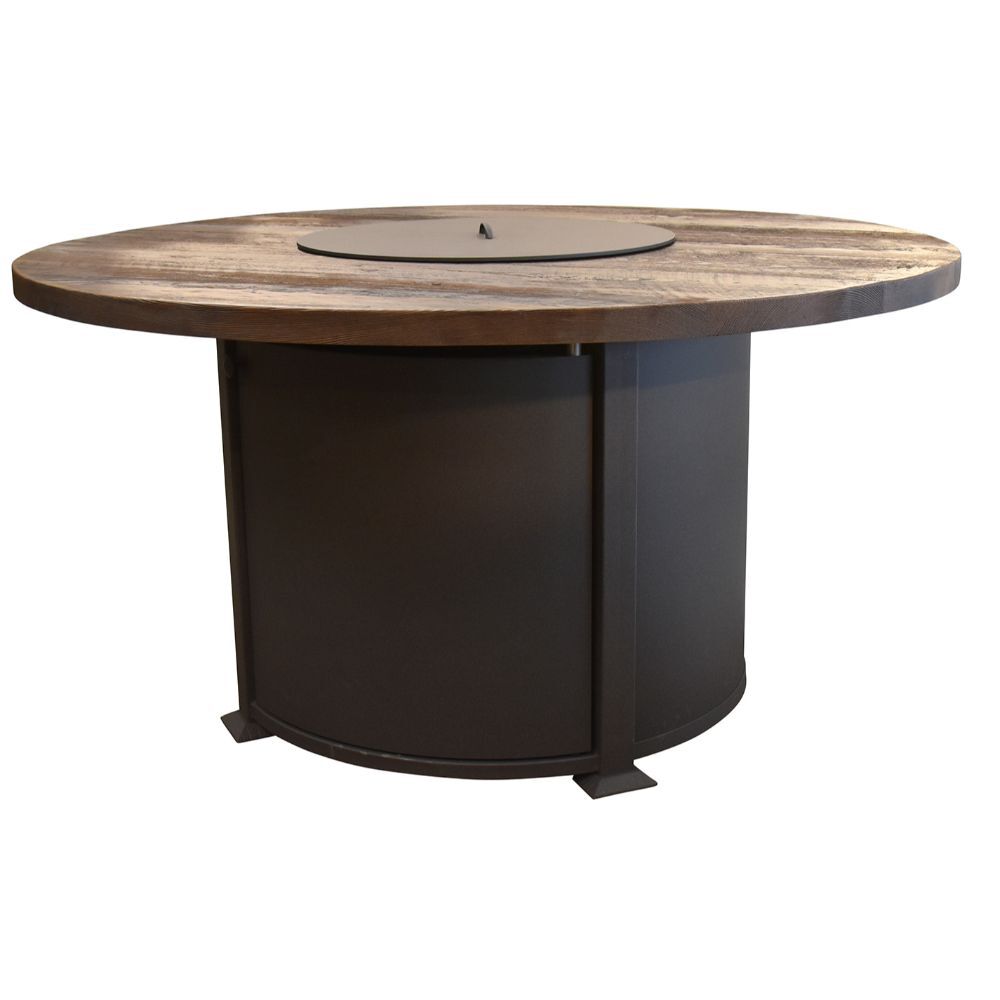 Homecrest Round Timber Fire Table
# 9100487
54" W 27.5" H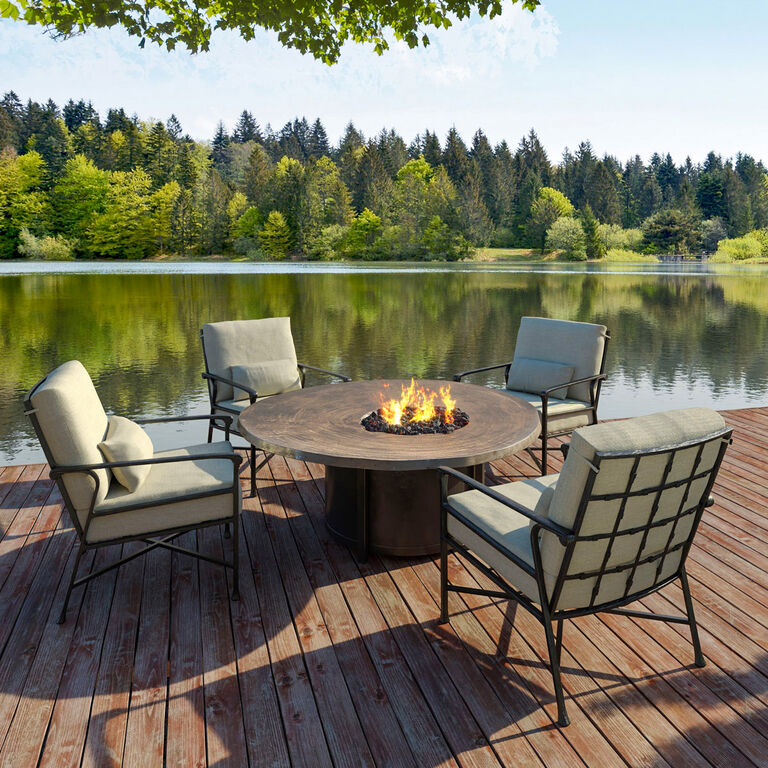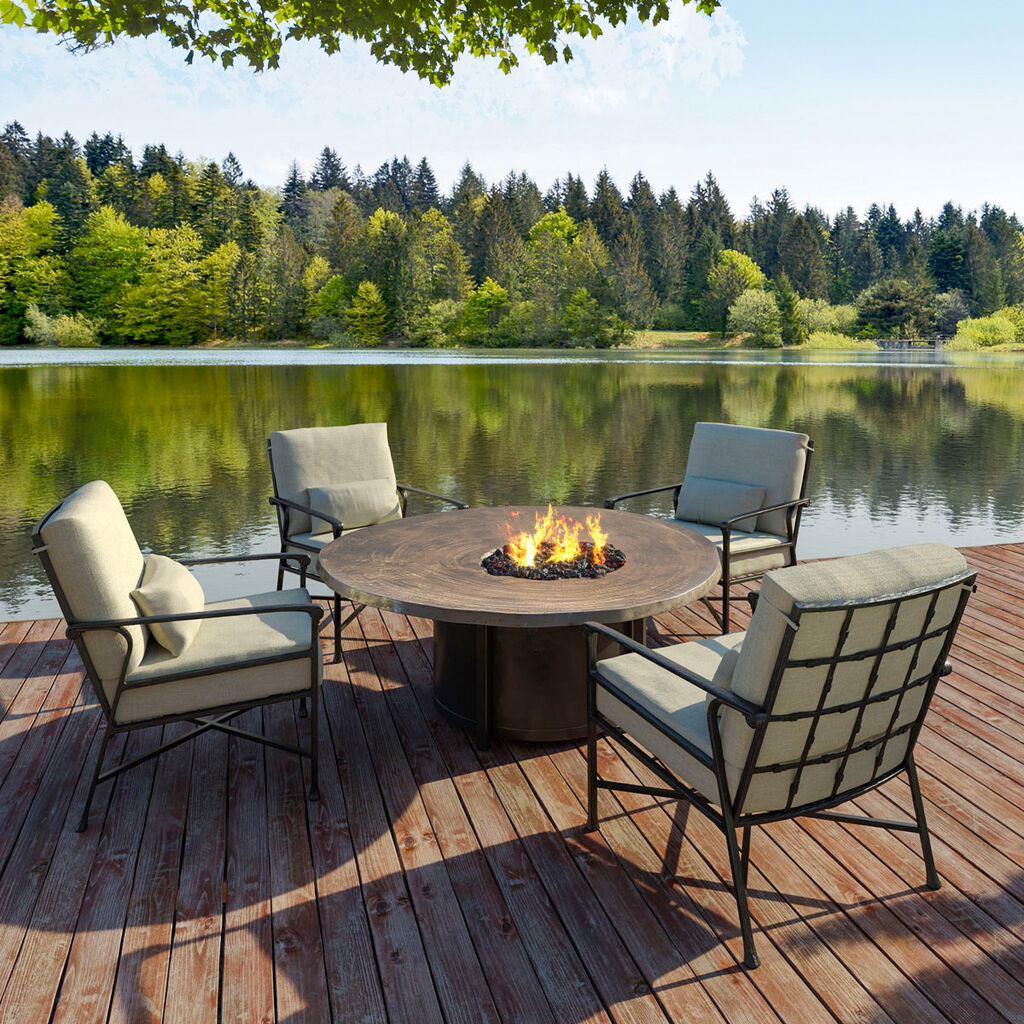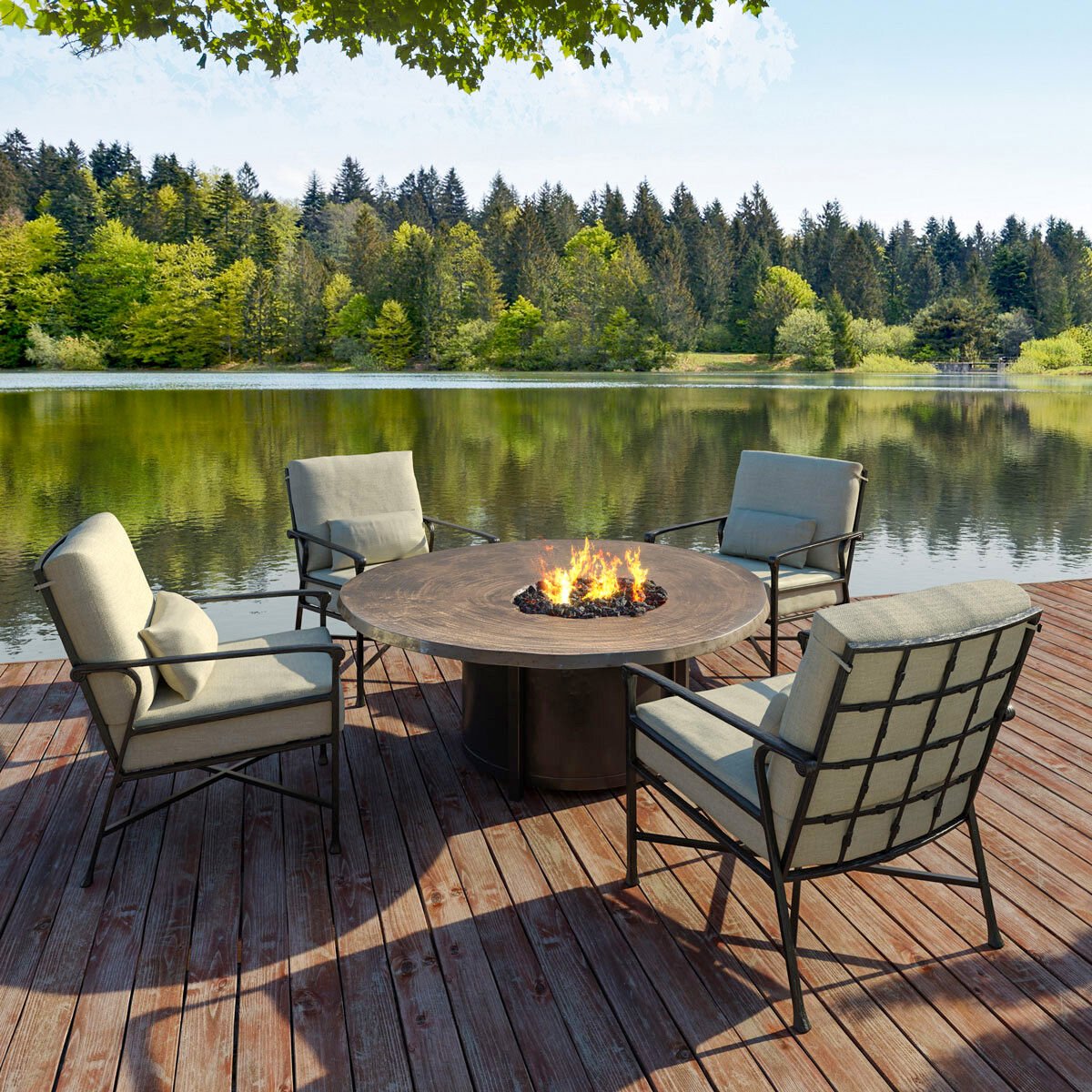 Castelle Round Cast Wood Fire Pit
Castelle Nature's Wood Tables blends modern simplicity with natural beauty. Inspired and created from nature, this table series features "faux wood" cast aluminum tops that mimic the look of real wood but are molded with heavy-duty cast aluminum.
The beauty of natural wood mixed with the durability of cast aluminum makes these tables lifetime pieces that are built to stand the test of time.
Available for Custom Order
Measurements 48" W 53" D 23" H
OUTDOOR FIRE PITS FOR YOUR BACKYARD
Make your outdoor space the hotspot of the season with a fire pit from Christy Sports. No matter if your style is wooded rustic or modern contemporary, we have a fire pit that matches your outdoor space's aesthetic. Each of our fire pits are constructed from sturdy materials, such as aluminum and tempered glass, to withstand all that the outdoor elements bring — season after season. Castelle, Hanamint, Homecrest and O.W. Lee are just some of the brands we proudly stock, giving you the craftsmanship you can trust.
At Christy Sports, we feel that the best memories come from time together in the outdoors. Knowing your fire pit is an investment that will provide years of memories, our team is here to help you find the perfect one. From your family's first night of s'mores under the stars to seasonal traditions passed down from generation to generation, we understand the value a fire pit brings. We have 15 showrooms located throughout Colorado and Utah so you can see each pit firsthand. You can also speak with a Christy Sports expert so that all your questions are answered. We'll get an understanding of your budget, spatial requirements and design taste to provide you with several options. And once you've found your purchase, each fire pit is shipped free and delivered with the white-glove treatment — all with optional installation and a 365+2 return policy. Spark a new tradition around your new fire pit when you shop at Christy Sports.