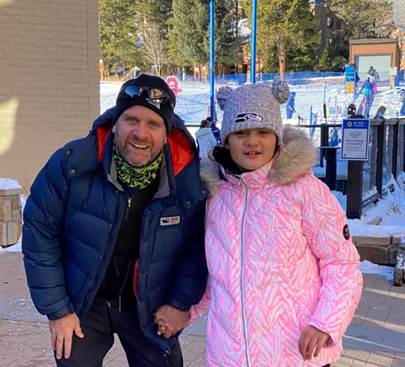 Passionate Partnership Provides Unforgettable Ski Experience for Child with Rett Syndrome
LAKEWOOD, Colo. (February 14, 2022) – Christy Sports teamed up with the Outdoors for All Foundation and Breckenridge Outdoor Education Center (BOEC) to help Ellie, a remarkable child with Rett Syndrome, get outdoors and learn to ski.
Rett Syndrome affects Ellie's life tremendously, as it constricts her physical, cognitive and communication abilities. Because of the way it affects her muscles and the use of her body, getting ski boots on Ellie's feet is extremely difficult.
Tracy Gibbons, Category Merchandising Manager of Hardgoods at Christy Sports and longtime board member of Outdoors for All, made it her mission to find boots that would meet Ellie's needs. Gibbons collaborated with her colleagues at Christy Sports who were able to source a pair of rear-entry ski boots. This unique style made it possible for Ellie to get her feet into ski boots and get out on the snow in Breckenridge, CO.
During her ski lesson with the BOEC team and Ed Bronsdon, Executive Director for Outdoors for All, Ellie was able to stay standing on her skis without the use of an adaptive snow slider or additional adaptive equipment, and with a little help, hold her skis together on her own. Fueled by her perseverance, it was a day of many firsts for Ellie and an unforgettable experience for her and her parents.
Though Ellie is not able to speak, her eyes and overall countenance spoke volumes that day. Ellie's parents were ecstatic and in tears as they watched her persevere and become a skier.
Since that first successful ski lesson, Christy Sports, Bronsdon and the BOEC team have had the honor of helping Ellie get back on the slopes for two more incredible days in Breckenridge, where she enjoyed a break-through weekend of skiing. Ellie was able to successfully ride on the chairlift both days and ski with tethered and side-by-side instructor support.
"Ellie's inspiring story demonstrates the power and beauty of mountain and nature sports and the higher purpose of what we do at Christy Sports," said Matt Gold, CEO of Christy Sports.
Ellie's mother, Heidi, shared, "We are so proud of our girl and so thankful to this entire team who helped her reach such awesome goals! When we are up on the mountain, we have a group of people with the same attitude as us. THERE ARE NO LIMIT'S!!! Never say Never! Always try because if you don't you will never know what you are capable of. And more than anything Ellie is always treated with love and respect. People talk to her as they would speak to any 13-year-old. There is no weirdness or awkwardness around her. To be surrounded by that and feel we have a team of people that GET HER and WANT to know her is the greatest feeling ever. My hope is to inspire the entire Rett community and other parents and families to Go For It! For kids that aren't able to walk, getting them up and being successful in a sit ski is just as awesome. More than anything, having people believe in your kids as much as you do, is what really makes the difference."
To learn more about Rett Syndrome and how you can get involved, visit the Rocky Mountain Rett Association website at rmrett.org
About Christy Sports
At Christy Sports, we help people #stepoutside - outside the predictable and expected walls of their comfort zone, and into a never-ending journey of progression. Driven by our unmatched passion for the outdoors, we are always advancing. In-store and online, within our industry, and with the communities we serve, we bring a spirit of innovation to every aspect of what we do. We were founded in Colorado in 1958, but we've been chasing adventure for much longer. Skiing and snowboarding isn't just a job for us, it's a lifestyle. No matter your level, we strive to give you the best experience possible and invite you to #stepoutside with us. Because when we step outside together, we step forward.
Headquartered in Lakewood, Colorado, Christy Sports is one of the leading outdoor specialty retailers in the nation with more than 60 locations in Colorado, Utah, New Mexico, Washington, and Montana. In addition to offering a broad selection of retail merchandise in its stores and through multiple e-commerce sites, Christy Sports is a leading provider of Rental and Equipment Services. During the winter off season, the Company operates highly professional outdoor businesses including Patio Furniture & Cycling to further inspire and enable Christy Sports guests' healthy lifestyles, and to leverage its operational infrastructure and passionate employee base.
For additional information, visit www.christysports.com/press.
Press Contact
Caitlin Davis
caitlin@commodditiesinc.com